Citation: Chan, Lois Mai, & Zeng, Marcia Lei. (2006). Metadata interoperability and standardization – a study of methodology part I: Achieving interoperability at the schema level. D-Lib Magazine, 12 (6).
Introduction and Rationale: The rapid growth of digital libraries has seen the proposal and development of many different metadata standards even within the same subject.  Ideally users of a digital library should be able to retrieve resources from a variety of collections using a single source, however "only if devices can be developed to attain interoperability will it be possible to facilitate the exchange and sharing of data prepared according to different metadata schemas and to enable cross-collection searching.
Metadata Interoperability at Different Levels: A uniform standard approach (i.e. all participants in a repository were reuired to use the same metadata standards) is often not feasible, therefore other mechanisms of achieving interoperability must be adopted. From a methodological point of view, implementing interoperability may be considered at different levels: schema level, record level, and repository level. (see figure below)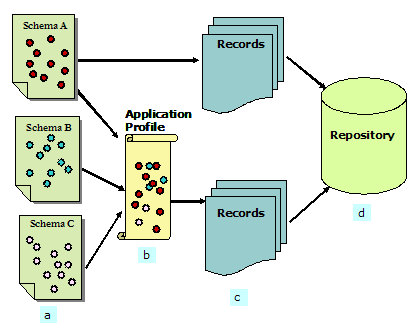 Achieving Operability at the Schema Level: At the schema level, interoperability actions usually take place before operational level metadata records are created and mainly include: derivation, application profiles, crosswalks, switching-across, framework, and registry.
Derivation: An existing schema is used as the basis or source for a new one.

Application Profiles: Where a schema is used as the basis for description in a particular digital library or repository, individual needs are met through a set of specific application guidelines or policies established for a particular interest or user group.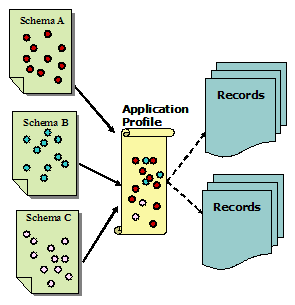 Crosswalks: The most common method of interoperability between metadata schemes. A crosswalk is a mapping of elements, semantics and syntax from one metadata scheme to another.
Switching Across: When mapping across multiple schemas, one schema is designated a switching schema and all other schemas are mapped to the switching schema only.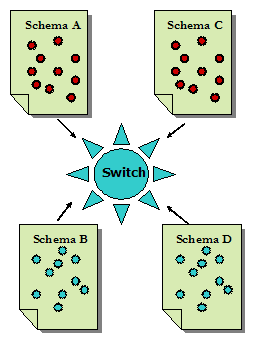 Metadata Framework:This can be understood as a skeleton upon which various objects are integrated for a given solution.
Metadata Registry: Collects data regarding metadata schemes.